DJs, don't miss the essential step of analyzing your music files before playing them in Serato. Utilizing the "Analyze Files" function will process music in your library to detect file corruption, build & save waveform overviews to an ID3 tag, and also calculate auto-gain, key, & BPM values (if these options are selected). When analyzing files, Serato software will only analyze files that have not previously been analyzed and you can stop the process at any time by clicking the Anaylze Files button again.
Here is How to Analyze your Files:
Run your Serato software in Offline mode by disconnecting your hardware.
The "Analyze Files" button is located above your library. Click the "Analyze Files" button to start the analysis of all music that's been added to your Serato library. You can also drag & drop individual folders, crates or files onto the button to analyze specific selections.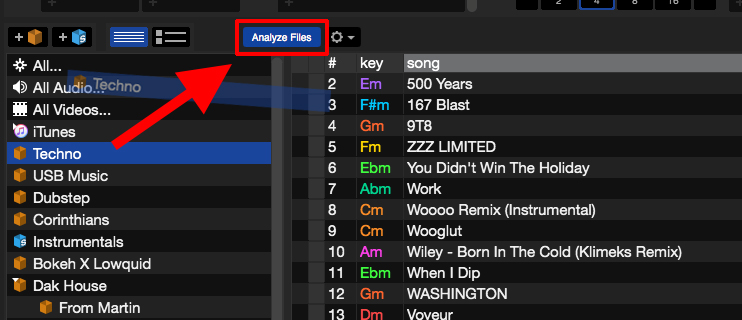 When the process of analyzing files starts you will see the number of files and the track names & locations in the upper left corner displayed briefly in the bars above the button. You will also be shown the track reading progress, waveform overview building, corruption/damage detection, auto-gain & BPM calculation, as well as, tag writing.
Beware, file analysis can take minutes, hours, or even days to complete depending on how many files. However, if at any time you need to stop the process, simply click Analyze Files to stop. When you're ready to continue, click the Analyze File button again and the analyzer starts where you previously stopped. 
Analysis Settings –Click Analysis Settings to open configurable options for your analyzation.
Set Key – Detects a key from the track and adds key tag data to the track.
Set Beat Grid/BPM – Detects the tracks BPM and create a beat grid.
*Note from Serato: Analyze Entire Library will remove analyzation data from all your tracks and force Serato DJ to analyze all of your tracks again. If "Set Beat Grid/BPM" is checked you will lose any edited beat grids".
Corrupt Files: If a corrupt file is detected during analysis, it will be tagged with the corrupt file icon. Corrupt files can cause the software to crash, it's imperative that you delete ANY corrupt files from your library immediately.
*If for any reason, you have trouble analyzing your files, Serato recommends viewing the article below which should explain how to resolve issues: Troubleshooting freezing and crashing while Analyzing Files".
Powered by WPeMatico